---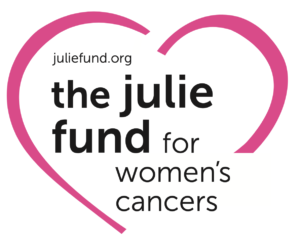 The Julie Fund Mission:
The mission of The Julie Fund for Women's Cancers is to fight women's cancers in three spaces:
Education/Advocacy
Research
Patient Support
The Julie Fund was founded in 2004 and has grown to become the single largest contributor to ovarian cancer research at Mass General Hospital.  In the past 17 years, The Julie Fund has donated over $4M in the fight against women's cancers.
Key Accomplishments:
2003 – Forty-year-old Julie McAvinn, mother of three, was undergoing treatment for ovarian cancer and envisioned an organization that focused on easing the struggle.
2004 – Julie lost her battle.  Julie's husband, Peter, together with a group of dedicated friends, started The Julie Fund.   A partnership is established with Massachusetts General Hospital to give social services to patients in need – transportation, childcare, health care, mortgage payments, etc.
2006 – The Julie Fund establishes a Scientific Advisory Board to evaluate research applications.
2010 –The first Executive Director is hired.
2011 – A partnership with Ovations for the Cure of Ovarian Cancer is established and begins delivering meals to patients undergoing treatment.
2014 – The Julie Fund celebrates being named the "Single Largest Philanthropic Contributor to Ovarian Cancer Research at Massachusetts General Hospital," a decade of service and $3M in funding.
2015 – Our education programming is outsized to include advocacy.  Together these amplify the message that "The Best Defense Against Cancer is Early Detection."
2015 – The Julie Fund for Women's Cancers makes its largest gift ever to MGH, $300,000, with $50,000 earmarked for education/advocacy.
2016 – The Julie Fund launches video series aimed at early defense, educating women on risk factors and early warning signs of all women's cancers.
2017 – The Julie Fund hosts the first ever Ovarian Cancer Survivor Course for patients and their caregivers.
2018 – A mind-body initiative is established.   Our Road Race became a timed event and we laid the groundwork for  YOGA STRONG.
2019 – Yoga Strong launched at Nike Town in Boston.
2020 – The Julie Fund hosted its first-ever virtual gala, "Jokes for Julie"
2021 – The Julie Fund expanded its patient support pillar with a transportation program.